Rocket, labeled The Silent Blast, was a contestant on Object Twoniverse. He is first person to be eliminated in the episode Drop The Base by the contestants, and recieved 16th place.  
Rocket

Rocket as he appears in Object Twoniverse.

Voice Actor

???(Although, in Episode 2 Drop The Base he is voiced by TeenChampion screaming after getting eliminated.)

Eliminated in

Drop The Base(4 votes) Our first elimination is here! (103 votes)

Place

16th

Species

Rocket

Gender

Male
Rocket's Personality
Edit
Rocket seems happy yet thoughtful, and it is unknown if he has the ability to speak, although he was heard screaming in Drop the Base. He seems normal enough, though he dissapoints Window greatly as he finds the lack of eager intensity between the new contestants. His face is fixed in the circular "Window" on his body. He is armless.
Episode-by-episode summary
Edit
Rocket doesn't have much screen time in the first episode. When Window is raging at Kite, Window says 'hopefully Rocket is better than you,' introducing Rocket, who is standing and smiling. Window says he can't say he's dissapointed, as due to the lack of 'likeableness' from Window's perspective.
Drop The Base
Edit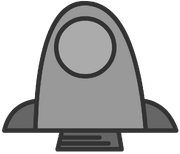 He tried to bring Team Newbie's flag back to base, but he was stopped by Asthma Inhaler. After Butter lost for the team, Rocket was eliminated over him in a 3-4 vote. 
However, Rocket actually CAN TALK! 
Window: We ask you to leave kindly. 
Rocket: Phew. 
Window: JK! BYE BYE! 
Rocket: Huh? (Screams) 
Rocket: (Screams again) 
Rocket: ( Screams after being launched by cannon) 
He is standing happily, later to be crushed by Icicle. 
BFCI Episode-by-episode summary
Edit
Ep1: The beginning comes to the stage!!
Edit
He was one of the 15 contestants, He was placed 7th in the challenge.
Ep2: Team Choosing Time!!!!
Edit
He was chosen by Gear, And was up for elimination.
Ep3: Our first elimination is here!
Edit
He was eliminated with a record of 103 votes.
(BTW, Here is sumthin for Sam)
3DS: The person eliminated with a record of 103 votes is............................................................................
(Sam might be thinking...
Sam: Oh boy, I really hope it's Rocket!!! He's a jerk!)
3DS: Rocket.
(Sam: YES!!!!!!!!!!!!!!!!!!!!!!!!!!!!!!!!!!!!!!!!!!!!!!!!!!!!!!!!!!!!!!!!!!!!!!!!!!!!!!!)
Rocket and Yin-Yang: WHAT!?????!?!?!?!?!?!?!?!?!!?
Rocket: This can NOT happen to me!!!
3DS: Well, Look at the Piechart.
Rocket looks at the Piechart
FFFFFFFFFFFFFFFFFFFFFFFFFFFFFFFFFFFFFFFFFFFFFFFFFFFFFFFFFFFFFFFFFFFFFF(BEEEEEEEEEEEEEEEEEEEEEEEEEEEEEEEEEEEEEEEEEEEEEEEEEEEEEEEEEEEEEEEEEEEEEEEEEEEEEEEEEEEEEEEEEEEEEEEEEEEEEEEEEEEEEEEEEEEEP) (He cursed.)
Ep14: The Finale
Edit
Rocket voted for Post-it Note to win.